Spring is officially here, and we're excited to see you back on the water! You may have seen some of the changes happening at the water's edge, and we have certainly enjoyed watching the reconstruction of the piers unfold.
The City has confirmed the new dock road, dock entrance, and Harbour West Marina office will be open as of the first week of May. As you can see in the graphic below, it will come right off of Guise St. and lead straight to our office and fuel dock.
Parking will be available from a lot beside the new dock road, right up to the Iroquois dock entrance. All of the parking in front of the RHYC is shared, and will be available to you.
There will be a drop-off area, with accessible parking and space to turn-around in front of the new dock entrance. In addition to this, we will have a new, electric, four-seater golf cart to pick you up and bring you over to your slip entrance if you require it.
The new fuel dock will become available shortly after opening, and will include a floating tie-off for more convenient docking and pump-out services.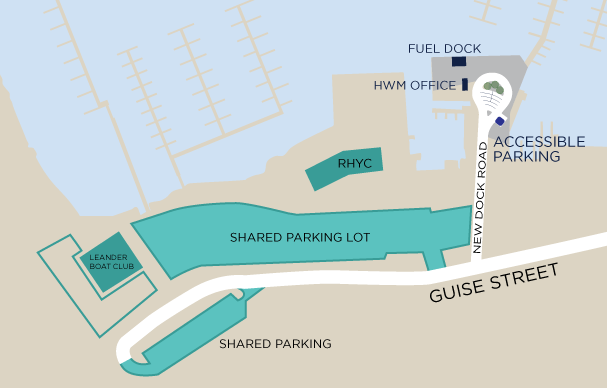 All of our slips will be available for occupancy as of May 8 for both new and returning boaters. Please remember to have your summer slip agreement signed and returned to the marina office, along with your $500 slip deposit, to reserve your slip for the season.
If you have any questions about this season or your launch date, please call 905-525-3622 or reach out by email via [email protected].